Are you wondering how your baby or toddler should be dressed when he's in cloth diapers? Cloth diapers are stylish in itself, but there also many ways for baby to be the ultimate fashion icon!
Here are several ways to show how Cloth Diapers can be fashionable, versatile, fun and super-duper cute to be worn! Why would anyone miss out on using cloth diapers and choose those dreadful disposable diapers when they are just waaaay better??! Don't you agree?
Simply Show Them Off!
My little boy in back-to-basics cloth diapers 
Why would you hide those cute colours and prints of your baby's cloth diapers under their pants/rompers/shorts when you can show them off to the world! The colourful and brighter the better! It'sideal for the hot weather, and it also enables free movement on your baby too. (Shirt/blouse is optional, hehe) It's great promotion for cloth diapers too, other parents might just ask you more about them…
Pair Them with Leg Warmers/Socks!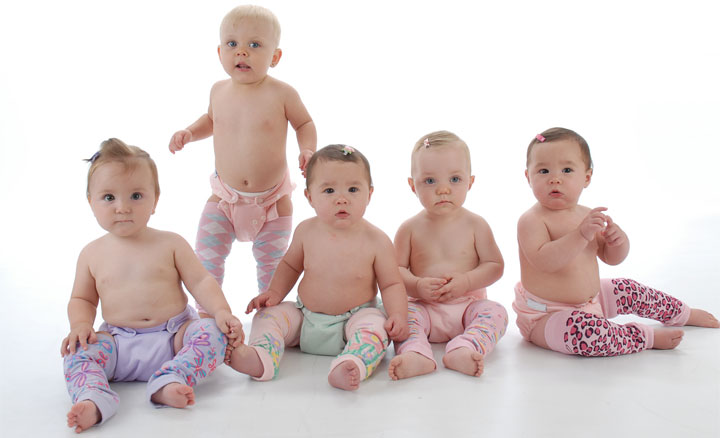 Again, why cover them, when you can expose them! Use of baby leg warmers/socks allows you to keep baby's legs and knees warm and covered, while still showing of those cute cloth diapers! The best part is, you can have several colours of leg warmers too, to match your baby's diapers
I know there are several brands out there: BabyLegs, Huggalugs, Nissen, Combini, etc… you can choose from many others online!
Wear Them With Regular Clothes
Some might feel that cloth diapers are bulky to be worn under baby clothes. For myself, I have worn them under my baby's every day clothes like rompers, pants, jeans and shorts with ease – no problems at all! However, ensure that they are comfortable on baby, make sure that you wear a slightly larger size of romper/pants to accommodate the cloth diapers underneath. Also, it's better to wear daytime diapers which are trim and not as bulky as night time or diapers for heavy wetters. Personally for me, the best diapers to wear under pants/jeans for outings are Itti Bitti Snap In Ones (SIOs) because they are slim-fitting and trim
Wear Them With Woolies!
If you are wearing fitted or prefold type of cloth diapers, apart from putting on a diaper cover to make it water/leak-proof, you can also put on a pair of wool shorts (also known as "shorties") or pants ("longies"). An amazing trait of wool is that it can make the fitted diaper waterproof, and makes it great for naps and night time use – it's totally breatheable! Not to mention, "woolies" come in many designs, embroided, patched, striped, etc etc… It's just like wearing a pair of trendy pants!
They'll Look CUTE Under Skirts!
Erm…. I do not have a baby girl, but if I DO, I would definitely put her on cloth diapers with a teeny-weeny mini skirt on top! I simply cannot resist seeing some cute pair of cloth diapers peeking under a little girls skirt!
So there you have it, 5 ways you can dress up (or down) those cute cloth diapers! What's YOUR favourite way of wearing them on baby?