I have upgraded myself from the Prefold+Cover and Pocket Diaper to a new type of Cloth Diapers: the All-In-Twos (AI2s).
What are All-In-Two (AI2) Cloth Diapers?
They are similar to All-In-Ones (AIOs) type because they have all the components in one diaper: A waterproof outer and the absorbent soaker.
The difference is that the soakers, which are secured with Snaps, can be easily removed from the outer (diaper cover).
It's easy to use because when you change the diapers, and the diaper is not soiled (cover is still clean), you just remove the wet soaker and replace with another clean one!
It's convenient because if you travel or go out, you can just bring extra soakers instead of an entire diaper – Saves a lot of room in your diaper bag!
Because the soakers can be removed, it allows thorough washing of the soakers and drying times are also faster (compared to AIOs). Also, there's less laundry to do!
It is more expensive than the other types of cloth diapers.
However, in my opinion they can be economical – you just need a few pieces of covers and you can buy many many soakers to use and rotate instead of buying additional cloth diapers!
The outer cover can also be used as a diaper cover with Fitted Diapers and Prefolds!
I love the simplicity, uniqueness and design of the All-In-Two system. I agree they are a bigger investment, but they are very versatile!
Currently, I am using these two brands of All In Twos:
GROVIA (formerly known as GroBaby)
Actually, I've tried GroBaby (and still awaiting my GroVias – coming soon!
). This was the brand that made me love AI2s! The GroBaby shell set costs a whopping RM95 (comes with a shell, a soaker and a booster) but it was well worth it! You can also use it as a Hybrid system, purchase some disposable inserts and it's easier to use when out and about. The prints are cute, its design is tip top and it's also one-sized (although it has quite a small cutting). It may not be so easy to buy GroBaby's now because soon all the shops will be selling GROVIAs instead (slightly different design but still the same features), but if you manage to buy them preloved/second hand, you should! (Psst… there are some listed on Diapers Asia forum, see for yourself
)

Available from: My Cheeky Boo, My Baby Pit Stop, Tiny Tapir, and many others.

ITTI BITTI D'LISH SNAP IN ONE (SIO)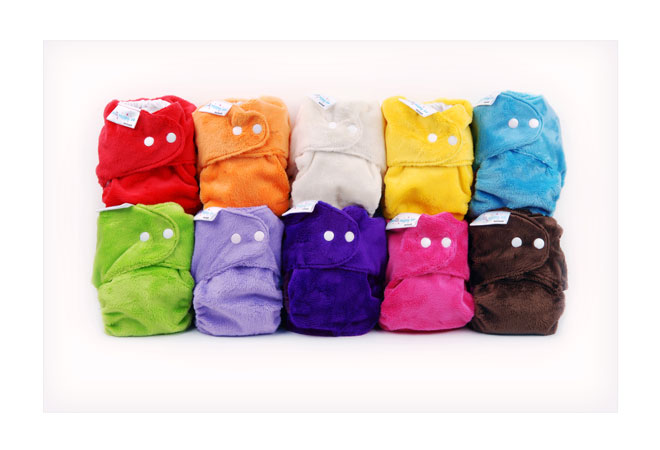 I understand why this Australian brand of AI2s are so popular. These cloth diapers are simply the cutest ever, check out the gorgeous rainbow colours and limited edition prints, and Minkee fabric outer too! It has a very unique design too which I liked, the soaker and booster can both be snapped off (Snap In One
) for easy washing and drying, and also for you to reuse the cover. It is SIZED diapers, and the design makes it fit really snugly and it is super duper trim. My husband loves this, saying that they are not bulky and looks comfortable for the baby to move around in. There are also some Moms who are selling these preloved – they're very popular, just visit the Diapers Asia forums and look for them (I bought all 3 of mine there too
)
Available from: Zizitots Collection
Check out the Malaysian CD Shops listing to see where you can get these 2 brands of cloth diapers!
QUESTION: Tell me your favourite brands of All In Twos too!